Posts for tag: dental implants
By Scott F. Bobbit, DMD
October 13, 2020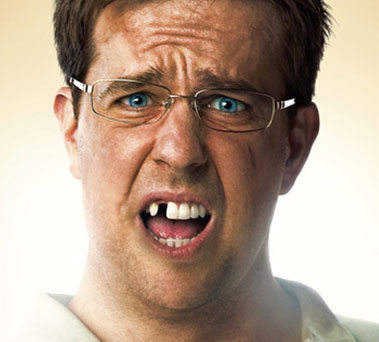 Ed Helms is best known for his role as the self-absorbed, Ivy League sales rep, Andy Bernard, on television's The Office. But to millions of fans he's also Stu, a member of a bachelor trip to Las Vegas in the 2009 movie The Hangover. In it, Stu and his friends wake up from a wild night on the Strip to find some things missing: the groom-to-be, their memories and, for Stu, a front tooth.
In reality, the missing tooth gag wasn't a Hollywood makeup or CGI (computer-generated imagery) trick—it was Ed Helm's actual missing tooth. According to Helms, the front tooth in question never developed and he had obtained a dental implant to replace it. He had the implant crown removed for the Hangover movie and then replaced after filming.
Helms' dental situation isn't that unusual. Although most of the 170 million-plus teeth missing from Americans' mouths are due to disease or trauma, a few happened because the teeth never formed. While most of these congenitally missing teeth are in the back of the mouth, a few, as in Helms' case, involve front teeth in the "smile zone," which can profoundly affect appearance.
Fortunately, people missing undeveloped teeth have several good options to restore their smiles and dental function. The kind of tooth missing could help determine which option to use. For example, a bridge supported by the teeth on either side of the gap might work well if the teeth on either side are in need of crowns.
If the missing tooth happens to be one or both of the lateral incisors (on either side of the centermost teeth), it could be possible to move the canine teeth (the pointy ones, also called eye teeth) to fill the gap. This technique, known as canine substitution, may also require further modification—either by softening the canines' pointed tips, crowning them or applying veneers—to help the repositioned teeth look more natural.
The optimal solution, though, is to replace a missing tooth with a dental implant which then has a lifelike crown attached to it, as Ed Helms did to get his winning smile. Implant-supported replacement teeth are closest to natural teeth in terms of both appearance and function. Implants, though, shouldn't be placed until the jaw has fully developed, usually in early adulthood. A younger person may need a temporary restoration like a bonded bridge or a partial denture until they're ready for an implant.
Whatever the method, there's an effective way to restore missing teeth. Seeing us for an initial exam is the first step toward your own winning smile.
If you would like more information about restoring missing teeth, please contact us or schedule a consultation. To learn more, read the Dear Doctor magazine article "Dental Implants."
By Scott F. Bobbit, DMD
April 16, 2020
Most children's permanent teeth erupt on a fairly predictable schedule. Sometimes, though, one or more teeth might not develop as they should — or at all.
These absent teeth pose functional problems for chewing and hygiene, which can affect long-term dental health. But they can also have a disruptive effect on an otherwise attractive smile if the missing teeth are the upper lateral incisors in the most visible part of the smile.
You normally find this pair of teeth on either side of the upper central incisors (the two front-most teeth). On the other side of the lateral incisors are the canine or eye teeth, known for their pointed appearance. Without the lateral incisors, the canines tend to drift into the space next to the central incisors. This can produce an odd appearance even a layperson will notice: only four teeth where there should be six!
It's possible to correct this abnormality, but it will take time and expense. The first step is usually to move the teeth in the upper jaw with braces to their correct position. This puts teeth where they should be and also opens space between the canines and central incisors so we can eventually replace the missing teeth with dental implants.
But the key to all this is timing. It's usually appropriate to undertake tooth movement with braces during late childhood or adolescence. But implants shouldn't be installed until the person's jaw fully matures, usually in early adulthood. An implant placed before then could eventually become misaligned.
To accommodate the time between bite correction and implant placement, the patient can wear a retainer appliance that will keep the newly created space open. We can also attach artificial teeth to the retainer to camouflage the empty space.
It usually takes a team of a family dentist, an orthodontist and a surgeon to see this kind of "smile makeover" project through, possibly over several years. But the gains in better aesthetics and health are well worth the time and expense.
If you would like more information on replacing non-developing teeth, please contact us or schedule an appointment for a consultation. You can also learn more about this topic by reading the Dear Doctor magazine article "When Permanent Teeth Don't Grow."
By Scott F. Bobbit, DMD
January 27, 2020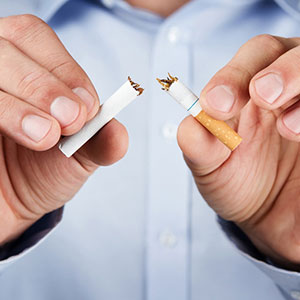 There are plenty of good reasons to quit smoking. Here's one more if you're considering replacing a missing tooth with a dental implant: smoking increases your risk of implant failure.
By and large, dental implants are the most reliable and durable tooth replacement option, with more than a 95% success rate after ten years. But that still leaves a small percentage that fail — and twice as many of those failures are in smokers than in non-smokers.
To understand why, we need to look at how smoking affects oral health. Besides burning and thickening the surface skin cells inside the mouth, inhaled smoke can also damage salivary glands and lead to dry mouth. Reduced saliva creates an environment friendly to bacteria, which increases the risk of infection and disease.
The nicotine in tobacco also restricts the myriad of blood vessels that course through the teeth and gums. The resulting reduced blood flow deprives teeth and gums not only of nutrients but disease-fighting antibodies. The mouth takes longer to heal and can't fight infection as well.
The key to an implant's success lies with its titanium post imbedded in the jaw bone to take the place of the tooth root. Titanium attracts bone cells, which grow and adhere to the post over a period of time and create a stronger hold. But the health effects of smoking inhibit this process. Furthermore, slower healing caused by smoking increases the risk of infection, the number one cause of early implant loss.
If you want to improve your chances for a successful implant — not to mention improve your overall health — you should quit smoking. The prospect of a dental implant could be a useful incentive to enroll in a smoking cessation program.
At the very least we suggest you stop smoking a week before implant surgery and then for at least two weeks after to help promote good healing. And you should pay close attention to your daily oral hygiene — brushing and flossing at least once — and regular, semi-annual dental visits for cleanings and checkups.
Smoking can harm your health. If you're considering an implant, it could also harm your chances of a successful outcome.
If you would like more information on dental implants, please contact us or schedule an appointment for a consultation. You can also learn more about this topic by reading the Dear Doctor magazine article "Dental Implants & Smoking."