Posts for tag: oral health
By Scott F. Bobbit, DMD
May 16, 2020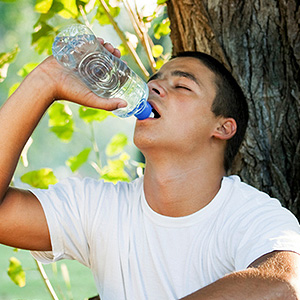 In recent decades civilization's millennia-long search for clean, safe drinking water has become much easier with modern purification methods. Today, there are few places in the United States without adequate access to potable water. And about three-fourths of the nation's tap water systems add fluoride, credited with helping to reduce tooth decay over the past half century.
But in recent years some have voiced concerns about the safety of tap water and popularizing an alternative: bottled water. Manufacturers of bottled water routinely market their products as safer and healthier than what comes out of your faucet.
But is that true? A few years ago a non-profit consumer organization called the Environmental Working Group (EWG) performed a detailed, comprehensive study of bottled water. Here's some of what they found.
Lack of transparency. It's not always easy to uncover bottled water sources (in some cases, it might actually begin as tap water), how it's processed, or what's in it. That's because unlike water utilities, which are rigorously monitored by the Environmental Protection Agency (EPA), the Food and Drug Administration (FDA) oversees bottled water production with less strenuous guidelines on labeling. Eight out of the top 10 selling brands were less than forthcoming about their water's contents in EWG's investigation.
Higher cost. According to the EPA, the average consumer cost in the last decade for tap water was $2.00 per 1,000 gallons (0.2 cents per gallon). The retail cost for even bulk bottled water is exponentially higher. It can be a costly expenditure for a family to obtain most of their potable water by way of bottled—while still paying for tap water for bathing and other necessities.
Environmental impact. Bottled water is often marketed as the better environmental choice. But bottled water production, packaging and distribution can pose a significant environmental impact. EWG estimated the total production and distribution of bottled water consumes more than 30 million barrels of oil each year. And disposable plastic water bottles have become one of the fastest growing solid waste items at about 4 billion pounds annually.
While there are credible concerns about tap water contaminants, consumers can usually take matters into their own hands with an affordable and effective household filtering system.  EWG therefore recommends filtered tap water instead of bottled water for household use.
If you would like more information on drinking water options, please contact us or schedule an appointment for a consultation. You can also learn more about this topic by reading the Dear Doctor magazine article "Bottled Water: Health or Hype?"
By Scott F. Bobbit, DMD
April 06, 2020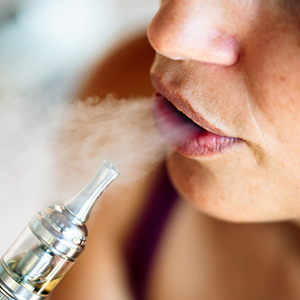 The first week of April is National Public Health Week, putting the spotlight on health issues that impact us all. The popular practice of vaping is one of those top issues this year due to its connection with recent lung illnesses and deaths. But this isn't a new problem—dentists have been critics of vaping for some time now over the growing evidence of its effect on oral health.
Vaping is the popular term for inhaling aerosol vapors through an e-cigarette (or e-cig for short). The electronic device contains a small reservoir filled with flavored liquids that contain nicotine and other chemicals. The device heats the liquid, turning it into a vapor that's inhaled or "vaped" into the lungs.
Vaping has been touted by proponents as a safer alternative to cigarette smoking. But there's growing evidence that vaping isn't a kinder and gentler way to "smoke." A good portion of that evidence comes from dentists who routinely treat oral problems caused or worsened by vaping.
In reality, the adverse effects of vaping on oral health aren't much different from smoking. Like smoking, vaping ingredients can irritate the inside of the mouth and cause dryness, an ideal environment for dental disease. And nicotine, the main chemical in both vaping and smoking, constricts blood vessels that deliver nutrients and disease-fighting antigens to the gums and teeth.
If these hazards weren't bad enough, recent clinical findings seem to indicate they're only the tip of the iceberg. Researchers from New York University's (NYU) College of Dentistry have found evidence from a combined study of cigarette smokers, e-cig users and non-smokers that vaping may significantly alter the mouth's microbiome to the ultimate detriment of oral health.
A "microbiome" is a term describing the intricate relationship between the millions of microorganisms inhabiting the human body and the body itself. While a few are malicious, many, namely in the gut and mouth, help the body obtain nutrients from food and fight against disease. Disrupting that delicate balance opens the door to diminished health.
The NYU researchers found that both smokers and e-cig users had higher levels of pathogenic bacteria in their saliva than non-smokers, suggesting both habits disrupted the mouth's microbiome balance enough to allow less benevolent bacteria to flourish. They also found that both smokers and e-cig users had significantly higher incidences of gum disease (72.5% and 42.5%, respectively) than non-smokers (28.2%).
If you're a smoker, a cessation program to quit the habit—not switching to vaping—is the way to a healthier life. If you would like more information about the effects of vaping on your oral health, please contact us or schedule a consultation. To learn more, read the Dear Doctor magazine article "Vaping and Oral Health."
By Scott F. Bobbit, DMD
March 17, 2020
Eating disorders cause more than psychological harm. The binge-purge cycle of bulimia or the self-starvation patterns of anorexia can also injure the physical body, especially the mouth.
For example, nine in ten people with bulimia will experience tooth enamel erosion from stomach acid entering the mouth from induced vomiting. Although purging is less frequent with anorexic patients, one in five will also develop erosion.
An eating disorder isn't the only reason for enamel erosion: you can have high acid levels from over-consuming sodas, energy drinks or certain foods, or not properly brushing and flossing every day. But erosion related to an eating disorder does produce a distinct pattern in the teeth. When a person vomits, the tongue moves forward and presses against the bottom teeth, which somewhat shields them from acid contact. This can create less erosion in the lower front teeth than in others.
Eating disorders can cause other oral effects. Stomach acid contact can eventually burn and damage the mouth's soft tissues. The salivary glands may become enlarged and cause puffiness along the sides of the face. The use of fingers or other objects to induce gagging can injure and redden the back of the throat, the tongue and other soft tissues.
It's important to stop or at least slow the damage as soon as possible. To do so requires both a short– and long-term strategy. In the short-term, we want to neutralize mouth acid as soon as possible after it enters the mouth, especially after purging. Rather than brushing, it's better to rinse out the mouth with water or with a little added baking soda to neutralize the acid. This will at least help reduce the potential damage to enamel.
In the long-term, though, we need to address the disorder itself for the sake of both the person's overall well-being and their oral health. You can speak with us or your family physician about options for counseling and therapy to overcome an eating disorder. You may also find it helpful to visit the website for the National Eating Disorders Association (nationaleatingdisorders.org) for information and a referral network.
If you would like more information on how eating disorders can affect health, please contact us or schedule an appointment for a consultation. You can also learn more about this topic by reading the Dear Doctor magazine article "Bulimia, Anorexia & Oral Health."